Products
EN 10155
ASTM
JIS G3114
NFA 35-502
SEW 087
UNI
BS 4360
JIS G3114 SMA 50 CP; SMA 50 CP steel; SMA 50 CP steel plate; SMA 50 CP steel grade; SMA 50 CP steel supplier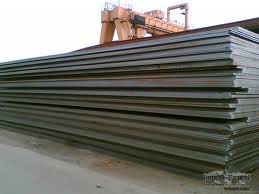 Grede:SMA 50 CP
Type :steel plate
Standard :JIS
Steel Plate Thickness: 2-460mm , Steel Plate Width: 1500-3200mm, Length:6000-12000mm
Place of Origin: Henan China (Mainland)
Brand Name: Bebon
SMA 50 CP steel is a structural weathering steel which is also referred to as atmospheric corrosion resistant steel. The main alloying elements are chromium nickel and copper with added phosphorous which gives it excellent self protecting qualities. As the steel reacts with elements in the atmosphere, the material forms a layer of rust over time which in essence protects the steel from corrosion

SMA 50 CP steel Deliver condition

Hot Rolled, Cold Rolled, Normalized, Quenched, Tempering, Thermal Mechanical Control Process (TMCP), Electroslag Remelting Technical, HIC test.
SMA 50 CP weathering steel has a widely use in Mine fans, earth moving buckets, trailers and large road vehicles, drill rings, cranes, excavators, underground mining equipment, bridges and other high strength components requiring superior toughness.
SMA 50 CP steel chemical composition by [%]

C

Si

Mn

P

S

Cu

Cr

Ni

V

Nb

Al

Max 0.16

Max
0.50

Max
0.50-1.50

Max
0.035

Max
0.035

Max
0.25-0.55

Max
0.40-0.80

Max
0.65

Max
0.02-0.12

Max
0.015-0.060

Min
0.02
SMA 50 CP steel Mechanical properties

Thickness
Yield Strength
ReH[N/mm2]
transv.min
Tensile
Strength
Rm[N/mm2]transv
Fracture Elongation[%]transv. min.
Notch Impact
Energy1)Ch Vcomplete samplelongitud. min [J]
----
355
510-610
22
----
Henan BEBON international co.,ltd have enjoyed much famous reputation at home and aboard. Especially, weathering steels are saled to global market. As our have a good relationship with per big steel mill, so we have SMA 50 CP steel more than 10000 tons in stock. More specifications and technology information, pls freely contact BEBON sales-team. We will offer you the best quality, best price and best service.